Projects Mine Fire Fighting Robot
Johnny Jones, April 1991

My mother noticed Bryan's persistence when he was two. "Poor little thing," she muttered, "he works all the time!" Bryan's "work" consisted of using the hand drill to bore holes into wood, tooling his wheelbarrow around picking things up, and stacking blocks. Mama had four girls.

But last week, I was beginning to think "Poor little thing" myself. As the deadline for the SEMO Regional Science Fair drew closer, Bryan's work intensified. For months he had been working 12-16 hours each weekend on his project. The last weekend he worked 12 to 16 hours
each day.

Bryan kept saying, "It's so close!" All the parts worked - but the robot didn't put everything together like it should. "It's the master program," Bryan noted, as his fingers flew over the keyboard.

Maybe so. Bryan's friend Joe Haas, an amateur radio operator and electrical engineer, helped him find three hardware problems the past Wednesday. Surely programming would fix everything else. And programming is Bryan's specialty.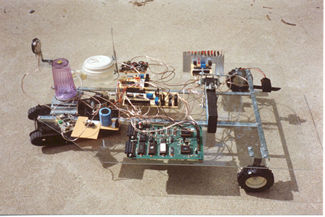 But in spite of Bryan's work, Sunday night the project still wasn't working. I knew what that meant: another trip to Rolla Monday to see Joe. Sure enough, Joe diagnosed more problems, and we headed home. Bryan was excited on the way home - "I can get it done now, and it works."

Wearily I asked, "How much more time are you going to spend on it tonight?"

"Only about 30 more minutes," Bryan replied.

We got home around midnight. I told Bryan to leave Results and Conclusions written out for me for the next morning, when he finally knew what they were.

My fingers didn't exactly skip over the keys as I worked on those last two posters the next morning. I kept telling myself, "He's a senior. You'll never have to do this again." I woke Bryan to hear, "I need thirty more minutes on the computer before we head down to Cape."

Oh no We needed to pack and go; displays had to be set up by noon.

We improvised - wire for the string to hold the boards together, books to support the other end of the false floor instead of the bricks we forgot. He got his approval at 11:58 - the last project signed out. Afterwards he said, "I need a few more minutes to work on this program
before the judges get here." They were due at 1:00.

The stragglers in the room gradually disappeared until we were the only ones left. Bryan, his hands uncomfortably high because of the short cable, was still working on his control program - still sure he could get it done. We left to eat lunch when the judges arrived.

"I can work on it some more while I'm waiting for the judges to get to my project," Bryan assured me, as he went in at 2:15.

While Bryan was talking with the judges, I went for a walk and prayer. "Lord, you know how hard Bryan has worked for the past 11 months on this thing," I said. "If he doesn't win, please comfort him and don't let his disappointment discourage him from future efforts."

We left Tuesday knowing Bryan had a blue ribbon, but awards were Thursday night; that's when we would learn if he would get to go to the International Science and Engineering Fair again. The agony of waiting was worse this year, because last year we didn't know the ISEF
was so much fun. Still, I told myself in the bathroom mirror, "You be gracious, win or lose." Last year, the mother of one of the students who didn't win was too upset to be polite on her way out. I determined to smile and congratulate whoever won. And we decided to go to
Taco John's afterwards, for either consolation or congratulations.

Things started looking pretty good when the special awards were announced. After Bryan went up front about five times, the people behind us whispered, "His project must be really good!" But I kept thinking, "Maybe he got these things because he didn't win overall - maybe they're trying to spread it out a little." More than anything, Bryan wanted that overall win. Bryan's name was announced last. I didn't know whether to laugh or cry, so I did both. Suddenly we heard people from all around say to Bryan, "You deserve everything you got," "Tremendous project," and "I'm so glad you won." Being gracious wasn't as hard as I thought it might be!

People prayed for Bryan, and we felt their support. I felt like saying, "Prayer works! Hard work pays off!" What I said, out loud in the middle of the Show Me Center, expressed it pretty well: "Thank you, Lord." Then we went to Taco John's for a celebration.