Bryan Jones Wins at 1990 Regional Science Fair
Johnny Jones

The eleven senior division blue-ribbon winners were lined up at the Show-Me Center. It was almost 9:30 p.m. April 5th, 1990, the culmination of the 3-day Regional Science Fair in Cape Girardeau, and tension was in the air. Out of the almost three hundred participants, who would be the two to win the trip to the 41st International Science and Engineering Fair?

Monica Griffin, herself a three-time participant at the International fairs, steadied herself, then said, "For his project, `Design and Construction of a Line-Sensing Robot with Two-Way Intelligent Communications as a Method of Transport in Hospitals,' Bryan Jones, Iron County C-4 Schools, Viburnum."

Bryan stepped back in surprise as other participants congratulated him, and as Ms. Griffin announced the other winner - James Kendall Walker from South Pemiscot High in Steele.

The International Science and Engineering Fair is the world's premier science fair. 750 students from over a dozen countries will display their projects in Tulsa May 6-12. The 800 judges have a PhD. or equivalent in their field. Last year, students from Puerto Riceo, China, the United Kingdom, Japan, Australia, and 47 of the United States participated. Bryan and Kendall will be escorted to Tulsa by the SEMO fair's director, Lester Leaton.

As part of their overall win at the fair, Bryan and Kendall were presented $50 and a plaque from Southwestern Bell telephone. Fisher Scientific presented a mug made from a chemistry beaker to the two winners and their teachers, and will contribute $100 in equipment their schools.

Earlier in the evening Bryan had been presented other awards. Hot got certificates from the National Aeronautics and Space Administration and the Marine Corps, and a $50 savings bond from Union Electric. The Cape Girardeau Area Engineers Club will make a special presentation at a dinner later this month.

Each of the senior division (grades 10-12) blue ribbon winners received a scholarship for fees, worth about $750 a semester, to Southeast Missouri State University, a $25 "Wish" award from the Cape Country Medical Society, and a lab coat. Junior division winners (grades 7-9) received a subscription to Science News and a "Wish" award.

A little boy seated in front of Bryan looked up and him, and then at his mother. "He won EVERYTHING, didn't he," he asked her.

Not quite. There were many other special awards, from groups as diverse as the Association of Women Geoscientists and Eastman Kodak.

Bryan's project was a continuation of projects beginning as early as 3rd grade, when he made an electric buzzer and learned principles of electricity. In 7th grade he used the computer to regulate the movement of radio-controlled cars.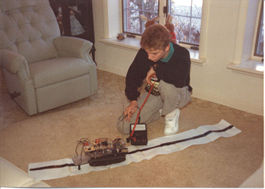 In 8th grade Bryan began entering science fairs outside Viburnum. With his "Mazebuster" project the computer had a remote-control tank dodge obstacles. He won the overall junior high award at the MAC science fair for this project, as well as a blue ribbon and special Navy award at Cape. Then in 9th grade, his project teaching the computer to recognize shapes won a blue ribbon at Rolla. In 10th grade Bryan didn't enter a fair, but tested for his amateur radio license.

This year's project was designed to alleviate part of the burden of hospitals by making a prototype for a robot which could move people or supplies around hospital hallways following a line, and controlled by a computer.

Bryan wants to thank the many people who offered him help and support on this complicated project.