Hee Jung
JohnnyJones, 7 February 2002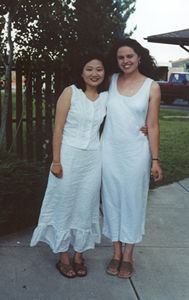 The first time I went to see Amy at her YWAM (Youth With a Mission) base just outside Denver, I met some of her best friends. There was Shaylea from Canada, Shyla from Florida, and Hee Jung from Korea.

I thought they were precious, sweet girls, but I was especially taken with Hee Jung ­ maybe because she allowed me to "Mommy" her ­ she missed her mother, who was far away.

Hee Jung and Amy have had adventures together, like watching the meteor shower while freezing on a mountaintop with some other friends, going to Colorado Springs (Amy was tour guide for her and another Korean girl) and celebrating with a group in Old Town Arvada.

Hee Jung told Amy, "You are beautiful and hilarious." She wasn't trying to be funny.

Hee Jung planned to come to our home for Christmas, but that didn't work out. So when Amy went out to Colorado Springs just after the first of the year, she took some gifts we had under the tree for her.

Hee Jung wrote us a lovely letter, and she wrote Amy about what she was doing in New York City. I asked her if I could share excerpts from these letters with you. She said I could, so here they are:

"Dear Mommy,

Hi! Greetings from New York City! I'm in New York City, the center of Time Square. I'm staying at the Lamb's Church of Nazarene in Manhattan and working in the office downstairs. I'm also volunteering Salvation Army, prayer station, and New York City Relief Ministry.

God is so awesome! I've never imagined these kinds of things now happening in my life. His grace that has been poured out in my life is amazing grace. But many times I didn't give thanks to Him....Even though I didn't acknowledge Him, He was my God and Almighty. Praise the Lord. Bless you. I hope to see you again.

I went to volunteer Salvation Army yesterday. First I went to Bronx to join New York City Relief Ministry. We fed the poor, provided their needs and prayed for their needs ­ healing, family and job opportunities and so on. And then I went to Ground Zero to volunteer Salvation Army Disaster Center. We served food for them, talked with them and shared about His salvation and promises with them. It was a long day. We had worked until 11 pm.

I was so impressed the Americans' heart. The Association of Restaurants in New York City provided every kind of food for rescue workers and there were cards from children, every kind of living supplies, Christian literature and warm smiles.

And I could go inside of Ground Zero. Originally it isn't allowed for the ordinary people to go inside. But one fireman took us to inside of Ground Zero. He let us to get on his working car (very like small truck) in order to show the rest of WTC building. So I could see details of disaster. I think I'm the only Korean who goes inside of Ground Zero area. And the fireman shared his testimony which was amazing with us. I think every man here have their own amazing testimony.

They really don't want people in the world to forget 9/11. But in fact it is so easy for the people to just forget and get in their life. The rescue workers need a lot of encouragement from outside. So they were so happy to know that I'm from South Korea to serve, encourage and pray for them. I'm so thankful to God for using my little action to bring joy, life, and encouragement to their life.

Life is short, God is eternal."

Amen, Hee Jung, Amen.