Catherine
Johnny Jones, 8 March 2002

It's been a long week. Honestly, it seems more like a month since I last wrote. That's because the day after I wrote my column we were called in for Chip's mother, who passed away while we were there.

But in addition to grieving, we celebrated Catherine's life. We remembered and told stories about Chip's mother. The best story was one Chip's cousin Annabelle handed us ­ seven pages written on yellow paper in Catherine's hand about her life. It spoke of a simpler time, and I thought you might enjoy it.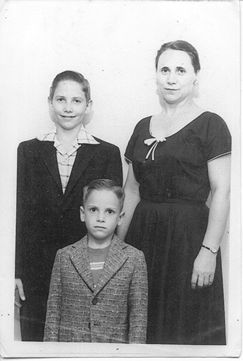 I was born in Justin, Texas, in 1913, the third and last child of Dr. and Mrs. J. H. Allen.

During my childhood, I climbed trees, played in the hayloft, ran sackraces, ate at the cookshack during harvest season, and ran races during Saturday Trades Day.

I was not an honor student, but I enjoyed basketball. At the time I played, there were three sections in the court. Since I could run fast, I played "side center," the person to retrieve the ball. Our last game was sad, because we lost to Sanger.

I was also a cheerleader, which meant I ran up and down the sidelines at ballgames, and directed some yells. There were no seats, so everyone stood throughout the game.

To raise money for some school activity, students paid a penny a vote for their choice for Football Queen. As a sophomore I was the Queen because my boyfriend bought the title for me. I dressed as we thought a queen should, and my "coach" was a decorated flatbed truck.

After graduating high school in 1930 with a class of 13, I entered the College of Industrial Arts ­ now Texas Women's University. CIA was a girls' school with very strict rules of behavior on campus and in the dormitories.

We wore blue chambray uniforms to class, and white poplin uniforms for dress. We dressed for dinner, and we had a seating arrangement for dinner that changed every six weeks. Our rooms were checked at 10:00 at night to be sure we were in the dormitory where we were supposed to be.

We were permitted to date men with parents' permission, which we picked up in the Dean of Women's office on Saturday. Our dates were in an open parlor in our dormitory.

In 1933, before I graduated, I secured a position teaching first grade in Shepherd, TX. My duties consisted of coaching basketball, teaching 5th grade spelling, junior high chorus, and conducting a rhythm band ­ all for $74/month. The second year I taught, my wages were $90/month, so I purchased a second-hand car.

At mid-semester, the second year of teaching in Shepherd, I was selected to fill a vacancy in Livingston, where my duties were to teach 1st grade, and organize and conduct a rhythm band. The Rhythm Band performed concerts and marched in parades.

It was in Livingston that I met and married James Evans Jones (Jimbo), built a home, and had our first child ­ James Allen Jones (Chip) in 1942.

We had an opportunity to purchase a butane gas business in Pauls Valley OK in 1945. We expanded the business to become Sooner Sporting Goods and Gifts. Both my husband and I worked with the school, scouts, summer park programs, and school band, and the Church of Christ Youth program. In 1950 our second son was born ­ Laurence Wendel Jones (Larry). In August of 1962 we sold the butane and gift business and moved to Lewisville TX, where I taught at Central Elementary (1st grade) for 15 years.

When I first began teaching, we were permitted to paddle students and pray at the beginning of the day as well as before the noon meal. I recall paddling two boys for molesting my 1st grade boys in the restroom. They laughed at me. They did not laugh the second time I paddled. I also remember paddling a thirteen year old girl who had been in my 1st grade class, for teaching my students to smoke cigarettes.

One of my students organized a gang, two were epileptics, one was deaf, one was dyslexic, one was partially blind. Fortunately we had a school nurse who through one of the civic organizations was able to get surgery for the partially blind student.* The counselor through similar channels got surgery for the deaf child, and our special programs provided for the dyslexic child. The students were helpful and caring for the epileptic children, both on the playground and in the classroom.

I thought it a privilege to have taught 1st grade children, and to have a part in their lives. It's wonderful to see them grown and with families.

I also count it a privilege to have worked with the superintendents, principals, and teachers throughout the years. I am especially happy to have worked with such a fantastic group of ladies the last few years at Central Elementary. There was so much cooperation. Truly the teaching profession can be a rewarding one both for students and teachers. May we teachers always make it so.

* It was through Catherine's pushing and prodding that these children got the help they needed. JC